Swoon Consulting offers a broad range of data and analytics services including the planning, architecting, and implementing of data-centric projects. Our experienced, creative, and inspired consultants bring diverse backgrounds and expertise in numerous technology areas enabling Swoon Consulting to deliver forward-thinking solutions grounded in industry expertise.
Cloud computing is an essential aspect of technology in the successful delivery of advanced analytics. Swoon Consulting focuses on clients' desired business outcomes around cloud enablement. We are cloud agnostic and have consultants with expertise in every major cloud platform. Swoon Consulting has the expertise to help clients maximize the full potential of the cloud to drive their business and leverage Machine Learning (ML) and Artificial Intelligence (AI) for automation and new insights with their data.
Swoon Consulting leverages established approaches and a broad spectrum of governance tools to help our clients obtain value from their data – how data is captured, stored, aligned, and used. Our approach provides customized methodologies for a governance program and stewardship projects based on our client's unique environment. We partner with clients to understand and identify critical pain points and high-value use cases while establishing a Data Governance program aligned with corporate objectives.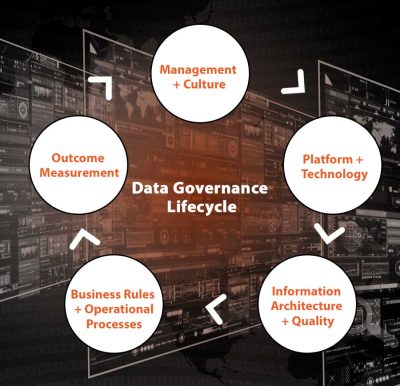 Behind every business transformation is a data strategy with a long-term roadmap that characterizes the people, processes, technology, and data needed to achieve company objectives. Swoon Consulting helps clients achieve their future state vision by working with our clients on a foundation required to obtain value from data.
We have the team and expertise in data strategy assessment refinement and implementation. Whether planning to refine an existing data strategy, implement a new data strategy, or need expertise and insights on specific initiatives, Swoon Consulting will assist in the identification of the appropriate tools, technology, architecture recommendations, and data science readiness.
Ambiguous data management can have an adverse domino effect on any organization. Errors in customer master data could negatively affect the bottom line or target the wrong audience. A data management strategy will ensure business-critical data is simplified.
Swoon Consulting takes a holistic view of master data management solutions. We employ a structured approach consisting of people, processes, and technology to ensure data is clean and reliable to achieve desired business outcomes.
Swoon Consulting assist clients design and implement efficient and scalable data processing pipelines, streaming analytics, big data infrastructures, and data warehouses to process, analyze, and report for performance and efficiency.
Our Data Engineering team consists of technology professionals with a wide range of skills and experience collaborating with clients to understand business needs and map a solution based on organizational requirements.
Our Data Engineers take a
return-on-investment
first approach assisting clients map and plan digital transformations and migration journeys by analyzing where a client is located within their lifecycle and developing an action plan to fuel their business initiatives.
.
Data science and analytics are the foundation for transforming decision-making data for business utilization in new ways and optimizes business performance. Swoon Consultants have expertise in the broader area of business intelligence, stretching from data mining and modeling. We provide expertise around Descriptive to Prescriptive Analytics while incorporating and advising on a wide range of technologies, models, and team structures to produce the maximum clients.
Data Visualization and Reporting
Making sense of data is critical for decision-making. Swoon Consulting helps clients empower users at every level of the organization by making vast amounts of data accessible and understandable via visual graphs and charts to answer business questions and create valuable insights.
Our consultants bring expertise in transformative data visualization and reporting capabilities that will help you clearly communicate complex data, uncover patterns in the data to identify performance towards goals and objectives, informed decision making based on data, combine data sets and automate manual processes, improve data quality, accuracy, and performance.